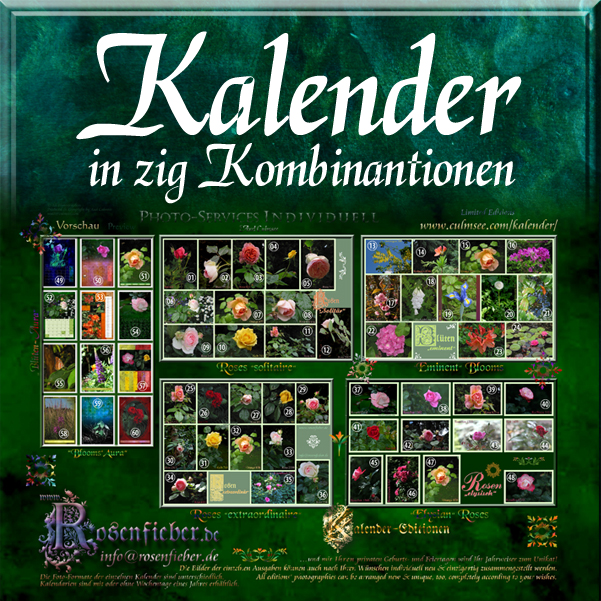 Kalender-Editionen
von
Photo-Services Individuell
by Axel Culmsee
…mit Ihren privaten Geburts- und Feiertagen wird Ihr Jahrweiser zum Unikat!
Zeitlos: Oder auch als Edition immerwährender Kalender (ohne Jahreszahl) zu bekommen!
Zudem kann Ihr Kalender mit jedem beliebigen Monat anfangen.
Die Bilder der einzelnen Ausgaben können ebenso nach Ihren Wünschen individuell neu & einzigartig
zusammengestellt werden.
Die Foto-Formate der einzelnen Kalender sind unterschiedlich.
Kalendarien sind mit oder ohne Wochentage eines Jahres erhältlich.
All editions' photographies can be arranged new & unique, too, completely according to your wishes.
Perpetual: available, too, edited everlasting! (without weekdays/year),
moreover your calendar may begin with arbitrary month.
Limited editions!
Themen-Titel-Beispiele (primary publication):
---
"Solitär" /

Roses "solitaire"
"eminent" /

"Eminent" Blooms
"extraordinär" /

Roses "extraordinaire"
"elysisch" /

"Elysian" Roses
"Blüten-Aura" /

"Blooms' Aura"
»Anmut und Lichtharmonie« (2012)
»Charis' Terra's Charme« (2013)
»Naturale Nu Illustrationen« (2017)
»Phantasie-Kolorit Arts Freestyle« (2018)
»Photo-Arts: partiell-multiple et segmentale Couleur- & Moment-Finessen-Modifikationen-Composita« 😉
… (2019)
---
…wird fortgesetzt… © by Axel Culmsee 
© All Photographies Produced & Copyright incl. photo editing by Axel Culmsee, Germany    www.culmsee.com
1.145 views
[sbscrbr_form]